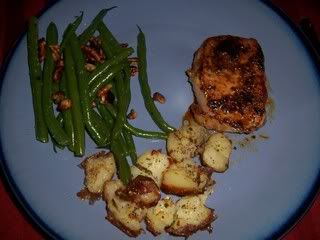 In continuing my dance into Autumn with fabulous fall foods, I decided to tackle a meal I made at the very beginning of August but neglected to blog because we had company--my friend Robyn--and I didn't want her to think I was weird by taking photos of my dinner. This is a really great, relatively quick meal that marries a ton of flavors and is great, in my opinion, for early Autumn when it's beginning to get cool and rainy (like today, for example).
This is an Emeril Lagasse recipe that I'm submitting for Joelen's monthly Chef Spotlight.
Pan Roasted Pork Chops
2 tablespoons olive oil
4 double cut pork chops
Salt and freshly ground black pepper
Essence, recipe follows
Preheat an oven to 375 degrees F.
In a large skillet over medium high heat, add olive oil. Season pork chops with salt, pepper, and Essence. Add pork chops to skillet and cook for 3 minutes per side. Place skillet in oven for 10 minutes or until pork chops are cooked to 150 degrees F.
Emeril's ESSENCE Creole Seasoning (also referred to as Bayou Blast):
2 1/2 tablespoons paprika
2 tablespoons salt
2 tablespoons garlic powder
1 tablespoon black pepper
1 tablespoon onion powder
1 tablespoon cayenne pepper
1 tablespoon dried oregano
1 tablespoon dried thyme
Combine all ingredients thoroughly. Store in an airtight container for up to six months.
Yield: 2/3 cup
Notes:
This is one of the easiest meals to prepare, and I love it for that reason. If you mix your Essence ahead of time, you don't even need to mess with the spice rack before cooking! Fab. Truly, truly fab.
This is great for fall because it's quick, but warm and filling. It's also an awesome break from your stock of casseroles!
Go ahead and giggle when you think of "Emeril's Essence." I did, but then again, I'm an overgrown 5-year-old.